Yet again we can report a highly successful weekend of superb tutoring at this year's Mid-Winter Workshop!
Eighty musicians, ranging in standard from learners to second section, enjoyed the top notch tutoring from David Childs, Brett Baker and Leonard Adams.
During the weekend, 12 items of music, kindly donated by Studio Music, Wright & Round, Pennine Music, R Smith & Co, Kirklees Music and De Haske Muziekultgave BV, were studied, pulled apart and sweated over, culminating in a short free concert attended by over 40 people. David Childs and Brett Baker also wowed the audience and workshop players by performing unaccompanied recitals.
Goff Richards Memorial prizes were won by Matthew Opie (soprano cornet, Camborne Youth Band) and Neve Lawrence (Eb Bass, Shirley and Foden Youth Bands) - a massive 'well done' to them both.
Thanks go to Gwen Kingdon and her team of ladies for keeping everybody fed and watered, co-sponsors Taw & Torridge Coaches and Westocott & Son Co-op Funeralcare, and members of the Executive Committee who organised the event.
Finally, on an unhappier note, SWBBA Chairman, Ray Kingdon was rushed to hospital with severe chest pains on the Sunday morning, but is now resting at home. We wish him well and hope to see him, and all of you, at the WEBBA Championships in Torquay in March.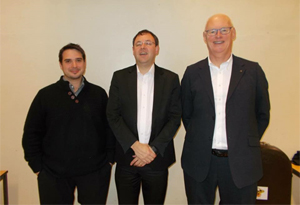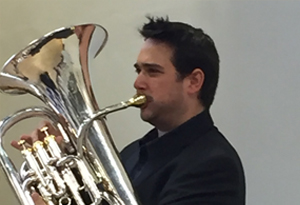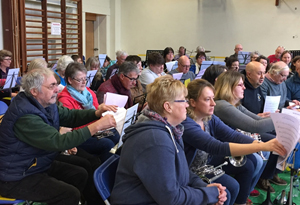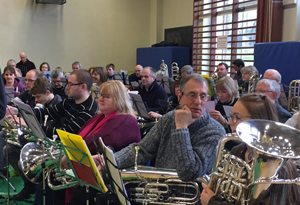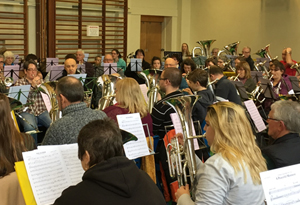 Places are going fast for the ever popular Annual Mid-Winter Brass Workshop, organised and promoted by the South West Brass Band Association, and to be held on Saturday 11 and Sunday 13 February 2017 at the West Buckland School, near Barnstaple, North Devon.
The Tutors for this prestigious event will be the respected Leonard Adams, Brett Baker and David Childs, who will put the participants through intensive tuition on new concert music provided by Kirklees Music, Pennine Music, R Smith & Co, Studio Music, Wright & Round, and Jan Van der Roost.
The Brass Workshop is supported by Taw & Torridge Coaches and Westcott & Son Co-operative FuneralCare.
Applications for the remaining places to be sent, with remittance, to Brian Elliott. Full details available on Training page - closing date Saturday 28 January.
Brian Elliott - Secretary, SWBBA
The ever popular Mid-Winter Brass Workshop, promoted and organised by the South West Brass Band Association, will take place over the weekend of Saturday 11 and Sunday 12 February 2017 at the West Buckland School, near Barnstable, North Devon.
The Workshop will provide full band and sectional tuition, with a free close of Workshop concert at 4pm on the Sunday. The Tutors this year will be Leonard Adams, Brett Baker and David Childs.
The Workshops began in Bude in 1999, then to Truro and Tavistock before making its home at West Buckland School, all this being the "brain child" of the late Dr Goff Richards during his term as the Association's President. The event can now boost an average attendance of 110, with the present President, Sue Richards, continuing the support of her late husband.
The Executive is grateful to the Associate Sponsors, Taw & Torridge Coaches and Westcott & Son Co-operative Funeralcare.
The full schedule and application form can be downloaded from the Training page or from the Secretary, Brian Elliott, at
Brian Elliott - Secretary, SWBBA
The 70th Annual Championships of the South West Brass Band Association were held at the Riviera International Conference Centre, Torquay on Saturday 5th November 2016 where 30 bands competed in 6 sections, with Verwood Concert Brass, conducted by Kevin Smith, taking the title of SWBBA Championship Band 2016 by winning a most competitive Open Section, their selected test piece being "Of Men And Mountains" by Edward Gregson. Once again Torquay proved to be a popular venue, which reflected in the high overall standard of music making and everybody enjoying the competitive but friendly atmosphere for which these Championships are noted. The Adjudicators, Stan Lippeatt and Steve Sykes, said "they had enjoyed an excellent day of quality music making, and performances in all sections of an overall high standard, and were confident that the future of brass banding in the South West was secure with such excellent playing from the bands in the Youth and Training Band Sections, particularly the many very young children". The trophies to the successful bands were presented by the Association's President, Sue Richards. Visit the Annual Championships page to view the full results »
During the Presentation Ceremony, the Association gave recognition in awarding Long Service Awards for 70 years continuous and dedicated service to one band to Harold Curtis (Sidmouth Town), Colston Isaac (Holsworthy Town) and Geoff Pedlar (Bugle Silver). The President then awarded retirement gifts to Keith Gibbs, Treasurer for past 27 years, and Brian Elliott, Secretary for past 23 years.
The South West Brass Band Association announces that the popular Own Choice Contest will be taking a further break for 2017. To read Vice Chairman John Woods' press release, visit the WSM Contest page »
Dear Friends,
Please bring this letter to the attention of everyone associated with your Band.
Member bands of the South West Brass Band Association (SWBBA) should already be aware that after 23 years of dedicated service, Brian Elliott will be standing down from his role of Secretary from Spring 2017. Despite actively seeking a replacement, the Executive Committee has been unable to fill this vital office.
We wish to bring to your attention that your Association may not be able to continue beyond 2017 unless it can source new interest and help from volunteers in planning and organising its activities in promoting contests and education for brass bands and their players in the South West.
What is the impact?: This would most likely result in contest organisation and promotion ceasing, and educational workshop events being cancelled or discontinued. Interest in the Association has been waning for some years and the Executive Committee need reassurance from bands and players that events will be supported - adequate entries and ticket sales have to be achieved to ensure the Association remains financially viable. The ability for the SWBBA to continue in its current format is therefore now seriously in doubt.
We can provide support and guidance to anyone coming forward in gaining the necessary knowledge and understanding of the Secretarial role. This is an exciting opportunity and has much to offer in return. The overriding criteria is enthusiasm, organisation and communication abilities and a desire to work as part of a team which is currently re-examining closely how tasks are best managed.
If any member of your Band, or you know of anyone willing to help, and would be interested in working with your local Association to continue this heritage and protect the future of banding in the South West, please contact the Chairman, Ray Kingdon, on 01769 673113 or .
With Best Wishes
Sue Richards (President), Ray Kingdon (Chairman)